Do you know, how many WordPress sites get hacked daily?
Statistics say more than 30,000 websites get hacked daily? Isn't it horrifying?
No one to be in that list. Isn't it? But, are you taking enough security measures to make your WP site safe?
The huge question right? I don't need the answer, think about it.
It's pretty much common being unsure of the website hacks new folks to avoid creating a security shield around their site. There are scenarios when a starter would think my blog is not that popular enough, who would hack my website. Are you one of them?
A huge mistake, hackers love all the size of the website. But, until it's being realized, gets too late. You cannot serve all your hard work into a platter and be being hacked.
WordPress being an open source CMS, can be vulnerable if haven't used properly. This is why WordPress security can become an essential part for any webmaster.
If you are thinking, then why WordPress? haha! Here is the answer to it.
You see that more than 31 percent of the website is powered by WordPress. Certainly, WordPress is an awesome and flexible that no one can stay out of it. 31% of webmasters cannot be wrong.
Although, security measures have to be taken on any content management system (CMS). Being popular and most used for any website WordPress websites are the most targeted ones by the hackers.
This is security plugins do the job and lets the worries fade away. Check out this Security ninja review to know this awesome plugin better.
Yes, this WordPress security plugin is absolutely free besides it robust scanning features. A blogger cannot afford to avoid it.
What Security Ninja WordPress Plugin Does?
Still thinking of, what would a free security plugin offer to secure your WordPress site?
Take a closer look,
perform 50+ security tests including brute-force attacks
check your site for security vulnerabilities and holes
take preventive measures against attacks
don't let script kiddies hack your site
prevent 0-day exploit attacks
use included code snippets for quick fixes
PRO modules for extra protection
extensive help and descriptions of tests included
fast and professional support 
Can you imagine it scans more than 50 security tests? That's incredible!
Get started with Security Ninja WordPress Plugin
Download Security Ninja WordPress Plugin (Free) from the WordPress repository.
And follow the same traditional way to install and activate the plugin.
That's it, no more configuration.
It's time to Ananlyze your website. You can locate the plugin in tools section, from your wordpress dashboard.
.
From the Security Test tab, click on the Analyze site button to scan your WP site. It might take a few seconds for performing the scan of websites files and no time it will give you an in-depth report of your website security status.
check out the details of one of the site,
32 test passed and 1 warning for having a log for your WordPress website to monitor all the activities going on in the backend. Although, security ninja Pro offers the detailed log.
13 test failed, which can be easily fixed one by one as it shows the detailed report for the same. Check the below image for more. It wise not to underestimate even a single security tip which is being suggested by the tool and increase the security score to 100%.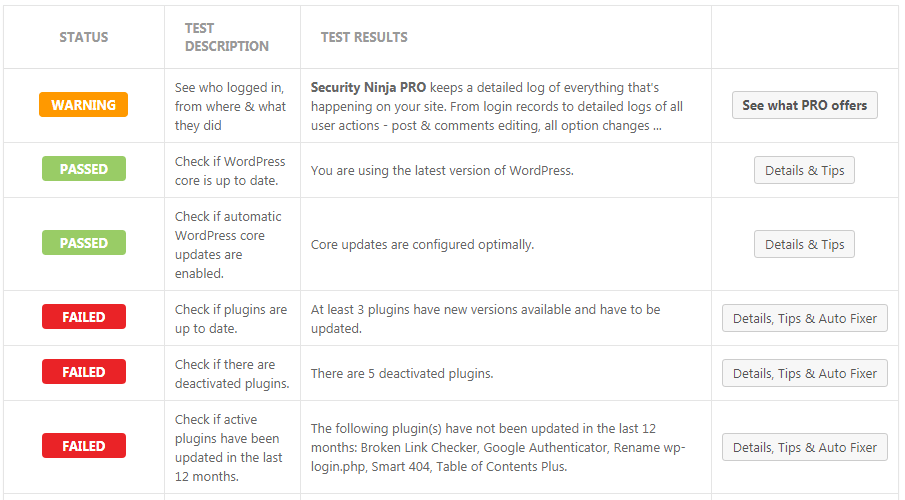 To fix the issues, click on the Detail & Tips button to know further about the issue and how to fix it.
Security Ninja Scans from your WordPress Website
Scanned Features
See who logged in, from where & what they did – PRO
Check if WordPress core is up to date.
Check if automatic WordPress core updates are enabled.
Check if plugins are up to date.
Check if there are deactivated plugins.
Check if active plugins have been updated in the last 12 months.
Check if active plugins are compatible with your version of WP.
Check if themes are up to date.
Check if there are any deactivated themes.
Check if full WordPress version info is revealed in page's metadata.
Check if the readme.html file is accessible via HTTP on the default location.
Check the PHP version.
Check the MySQL version.
Check if server response headers contain detailed PHP version info.
Check if expose_php PHP directive is turned off.
Check if a user with username "admin" and administrator privileges exists.
Check if "anyone can register" option is enabled.
Check user's password strength with a brute-force attack.
Check for display of unnecessary information on failed login attempts.
Check if database table prefix is the default one (wp_).
Check if the database has garbage/overhead data in it.
Check if security keys and salts have proper values.
Check the age of security keys and salts.
Test the strength of WordPress database password.
Check if general debug mode is enabled.
Check if database debug mode is enabled.
Check if JavaScript debugs mode is enabled.
Check if display_errors PHP directive is turned off.
Check if the WordPress installation address is the same as the site address.
Check if the wp-config.php file has the right permissions (chmod) set.
Check if the install.php file is accessible via HTTP on the default location.
Check if the upgrade.php file is accessible via HTTP on the default location.
Check if register_globals PHP directive is turned off.
Check if PHP safe mode is disabled.
Check if allow_url_include PHP directive is turned off.
Check if plugins/themes file editor is enabled.
Check if uploads folder is browsable by browsers.
Test if the user with ID "1" and administrator role exists.
Check if Windows Live Writer link is present in pages' header data.
Check if wp-config.php is present on the default location.
Check if MySQL server is connectable from outside with the WP user.
Check if EditURI link is present in pages' header data.
Check if Timthumb script is used in the active theme.
Check if the server is vulnerable to the Shellshock bug #6271.
Check if the server is vulnerable to the Shellshock bug #7169.
Check if admin interface is delivered via SSL
Check if MySQL account used by WordPress has too many permissions
Test if the list of usernames can be fetched by looping through user IDs
Verify integrity of all core files – PRO
Scan the database, plugin & theme files for malware – PRO
My Goodness, What the hell was that?
It's incredible that even the free version of security ninja goes through multiple checks of your site in a few seconds only. Going to be amazing for the starters and intermediate users. Although the Security Ninja has to offer a lot more than it.
Security Ninja Pro features
Although the free version works great. But, when said pro, for the obvious reason there would be some more advantages to secure your WordPress site. And if one doesn't want to do things manually, and would like to solve all the issues in just a click, the Security Ninja Pro version is for them.
Check out the video, how security ninja can protect your website.
Core Scanner
Apart from scanning regular files, the core scanner will also scan the smaller ones, even a few bytes. And give you an indication if any of the file info has been changed.
If you were hacked and want to get all your unchanged file by the hacker, this is what you want. As it creates a copy with WordPress.org so able to retrieve all from there and get your website back into the track just in a click.
Cloud Firewall
Brute force attacks are pretty common and the most traditional ways to hack the WordPress website. A cloud firewall can save you from the suspicious IP's.
It will continuously protect your website against the bad IP's as it contains a huge list of around 600 million IP's which are known for distributing the malware to the WP websites.
Auto Fixer
Are you too much stressed by playing with codes, configuring things, editing the core WordPress files, then auto fixer option will be loved by you?
Or being a beginner it could not be wise, as small miss configuration of the files may crash the whole website throwing errors.
As it fixes more than 30+ issues in just a click, without manually getting into manually each and every file, where the sensitive information is stored.
And that could make you more productive and spend time, where it required the most to skyrocket your online business and for better branding.
Database Optimizer
Who would like to keep the garbage? It's being very essential to empty the trash. Obviously, you don't need those files which you are not using anymore.
After every uninstallation and action, few files gets automatically create int the database and eventually it puts up a lot of burden on it. and that makes the overall site heavy and load slower.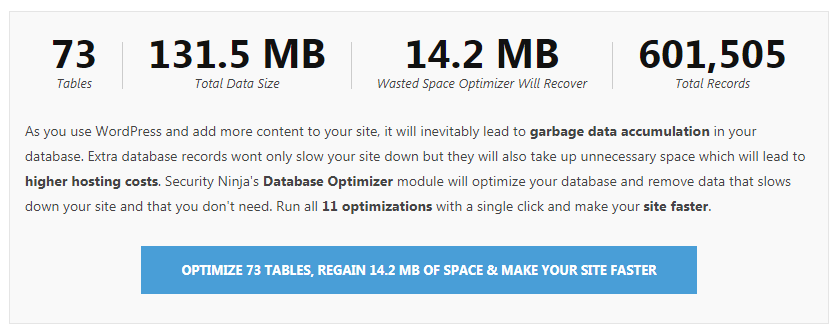 Still, do you need those files, No right? Security Ninja Database Optimized will scan all the waste files in seconds and lets you remove all those in one click itself.
Yeah, you heard it right. Optimization of the database was never been so easier. Isn't it sounds awesome a security plugin with Database optimizer?
Malware Scanner
Thinking of malware can be scary. As malware could be injected easily through any malicious scripts. Security Ninja WordPress security plugin has incredible features to perform an in-depth scan and analyze all the files.
Events Logger
This is an ultimate tracker which lets you be updated, what's going on with your website. All the actions are being recorded with the time, so no one would say I haven't has done that. Exactly, I am indicating if you have a multi-user site. This will be really helpful.
WordPress Security Matters
So, these are my final words on the above security ninja WordPress plugin. If you are serious about your online business, it going to think about your website security for more time.
And analyze what are the things which can compromise your security of WordPress and apparently be fixing them following the given tips.
I was amazed by the security features offered by the Security Ninja WordPress plugin. Be more productive, by fixing security issues in just one click.
Your website is an asset, and no one would let the asset go into others hands. Over to you!