If something we can admit here and now, regardless of differences of opinion, strategies, and professions, is that when we enter a website we hope it is easy to navigate, intuitive and logical. This is possible by having a correct structure on your website.
The structure in your web page should be oriented to have a better experience as a user, in that we agree; but, you should also make sure that the crawl of the search engine is as efficient as possible.
Why does the structure on your website matter?
The answer to this question is summarized in three key points:
A better user experience. The sooner your user finds what they are looking for (and this is what they are looking for) you will have a lower bounce rate.
A better structure. With a logical and well-marked structure on your website helps search engines enter, index and navigate the site in a much more efficient way. This is known as "budget crawl"
SERP efficient. A correct structure in your web page helps you to receive links in the SERP, thus achieving that your users navigate your site, choosing the indicated section, from the search results page.
What would be, then, a web page with a correct structure?
Now yes, fasten the belt that we are going to navigate in the depths of this subject. The one with the highest hierarchy.
Although, the hierarchy of the website is divided into:
Logic
With a good sum of main categories
And a healthy amount of sub-categories
And do not forget the semantics in your pages, since this also helps you to better structure your website.
That with a surface structure
What does it mean that the structure of your website is superficial? It means that your users reach the desired section of your website with the least number of possible clicks. I know that if your website is huge this goal is difficult; but, whether or not it is, search engines prefer sites with surface structure.
Relevant Read: The Common Mistakes New Bloggers Make [And How To Avoid Those]
That with an efficient structure of internal links
First of all, a good structure of internal links helps you a lot especially if your website is far from being superficial by reducing the number of clicks of your users.
In addition, creating a new internal page linking it to the main category makes it more understandable to the user. It is a group of information made naturally.
And, if that were not enough, an efficient structure between your links helps you distribute the weight of your page between important pages. Since, as we know, search engines give more weight to the sections and pages they consider important.
If you want to take an idea of how internal linking should be done, then check buydissertations.co.uk blog page content.
Relevant Read: Keep an Eye on Your Competitors [Brief Analysis Guide]
What do you need to do before Designing the structure of your Website?
Before sitting down to design the structure map for your web page you should make sure that all the important sections of the site are visible and reachable for both users and search engines. In case of not doing so, you would be making a structure with pages that can not even be found.
Therefore you should check:
Sitemap – just make sure you have it and update it as you make changes. Sitemaps guide search engines in a very hospitable way.
Links in Flash – Flash, the programming language, not the character of DC, as well, well dead and so should stay. You should check that your site does not Flash elements because this makes them inaccessible to the search engines.
Links 'nofollow' – make sure that no internal link that communicates your website between the sections have links indicated as 'nofollow' since this would cause them to receive a load of the website without distributing it to the rest of the sections linked to this section.
NOTE: this is not necessarily a "golden rule" because it also depends a lot on what your internal links strategy is. Always keep in mind that you have to decrease as much as possible the number of links that are on each page of your website.
Links with iframes – the iframes are also very dead because they block Google and other engines in the crawl, as with Flash, you must ensure that there is no iframe on your site.
Pages with duplicate content – pages or sections with the same or very similar content confuse the search engines, this causes the wrong pages to be indexed or gives greater rank to old pages. In the same way, other sites can link to wrong or old sections. Remember that this applies to, titles, subtitles, meta descriptions and more…
Alternative text (Alt attribute) in the images – helps search engines identify the images on your site and know what each one is and how to index it. Besides that, it becomes an excellent way to use your keywords more efficiently. Moderation is the key, do not abuse.
Orphan Pages – Among the things you must ensure is that there are no orphan pages on your website, these are sections of your site that are not connected to any other page of your website and are only there, floating in cyberspace. An example of the difference that makes a good structure on your website can be seen in the analysis we did a few weeks ago about the digital strategies of the Candidates for the Presidency of Mexico 2018.
It's important to maintain an SEO friendly site structure so that it should be user-friendly as well as increase your online visibility. Here is an infographic, how to go about it.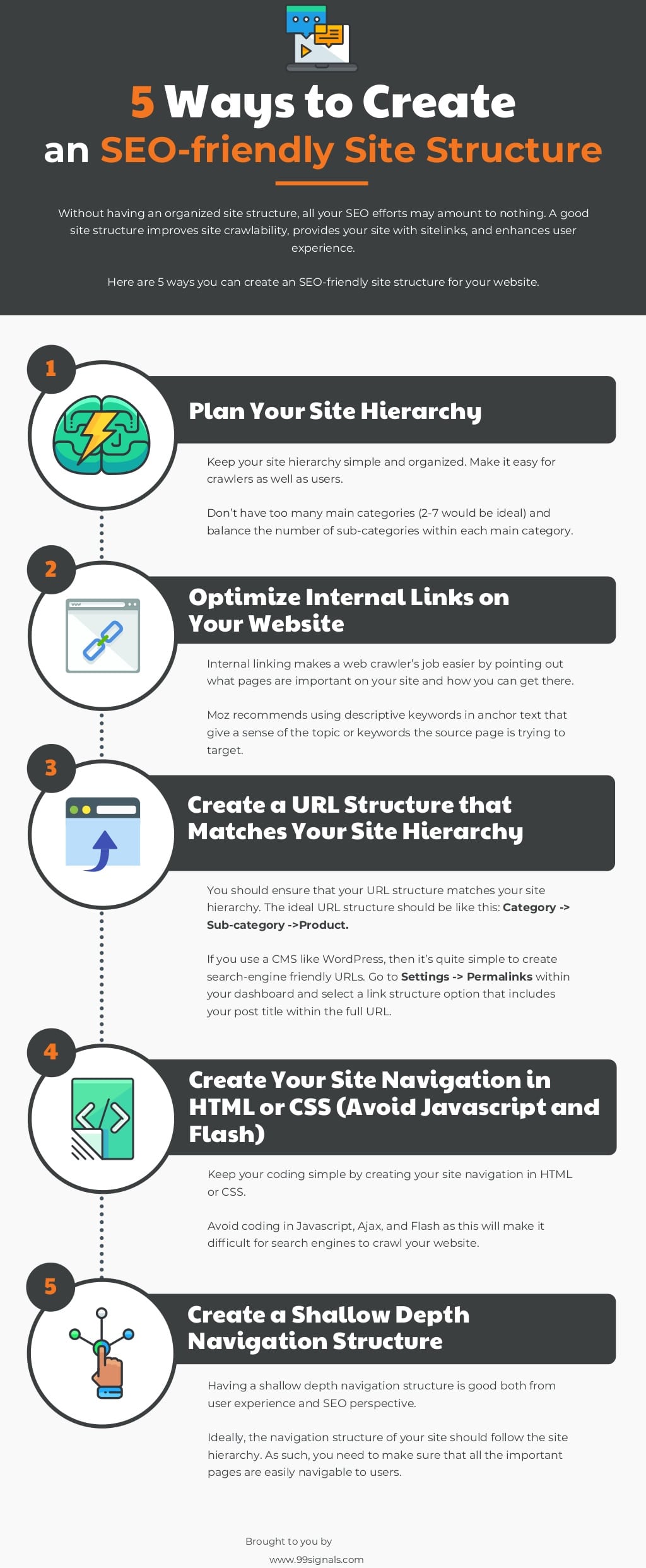 We have different tools that help us to analyze in depth the websites of our clients. With the right tools and following this small introduction to the subject, you can try to have a correct structure on your website.
How is the structure of your website? Have you done any analysis of its structure before? Tell us your experience and leave us a comment. Remember that we have a free SEO analysis of your website. Use it!