Want to earn money by writing, but don't have any experience?
No Worries!
There are proven tips, websites, and platforms that will pay you to write.
Yeah, you heard it right. Sit at your comfort place and do all the work.
There are enough freelance writing jobs for beginners which I am going to reveal in this blog post.
Excited?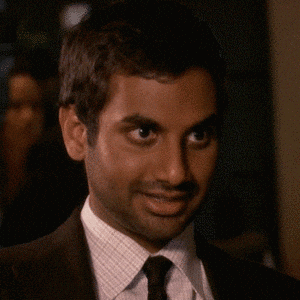 Hey, wait a minute, listen to me. I want your senses back in this blog post for you to make money by writing. 😀
DON'T rush. Never do.
Because it's not just, you will signup and start getting writing gigs. You need to strategize things. You need to present yourself better!
No wonder, there is a huge industry of writers who make their living through writing. And of course, you can be one too.
I had started my online earnings through freelancing writing itself.
That means I wrote for clients, content Marketers and they paid me.
Simple, isn't it?
There are plenty of examples, who earn more from their Freelance writing jobs than a full-time job. I will give a few examples below.
---
Why Start Freelancing Writing and Earn Money.
If you are good at writing. Just cash it.
And WHY NOT.
You are talented, you don't want that to go just like that without making any money out of it.
At least I haven't. I did a lot of freelancing writing work, which helped me grow further in the blogging industry.
Let me list a few reasons how it helped me and will do it for you too.
How it will Help in Your Freelance Writing
You will write a lot of articles, you will get noticed.
You will improve your writing skills and speed.
You will acquire a lot of knowledge while the topic researches.
You will earn money quickly, which encourages you to maintain your own blog.
Yeah, it takes time to make money through blogging, but efforts will be fruitful later. And this is where Freelance writing could be the rescue.
Okay, for inspiration Let, me list down a few awesome freelance writers in the industry who are doing exceptionally well.
Christopher Jan Benitez
He is an awesome freelance writer and one of my blogging buddy too. He has worked for many authority websites. And making his living just through freelance writing itself.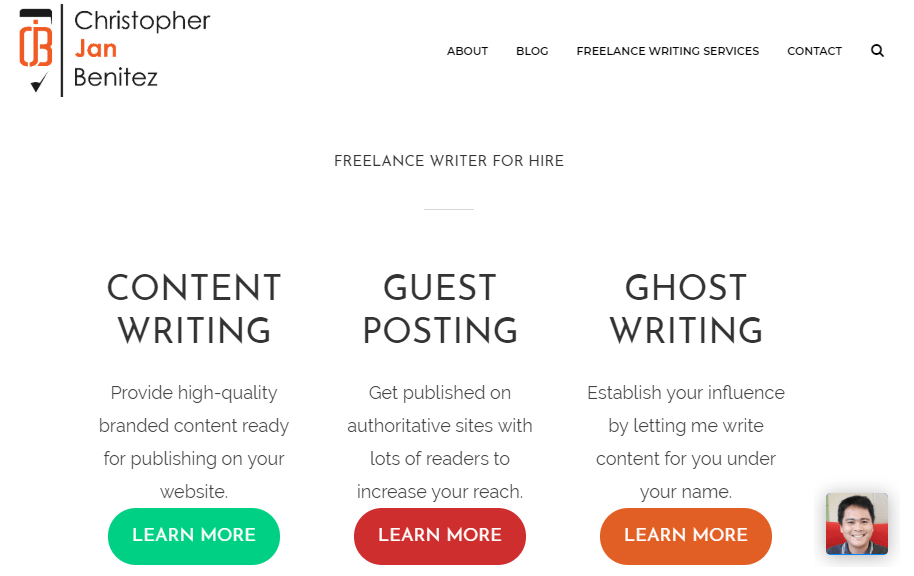 Sounds Incredible right? check his website here.
---
Another fantastic writer is Sue-Ann from WriteMixForBusiness, Check her website here. One of my blogging buddies too.

She is a passionate writer. And it reflects in her blog posts.
---
Another friend, Nikola Roza. He is a SEO'er and Freelance writer, He writes in his unique voice. Check his website here.
---
Another one is Colin, a fantastic WordPress freelance writer.
I have read plenty of blog posts written by him on various blogs. He is a skilled WordPress writer. Check his website here.
Sounds great, isn't it?
Yes, they are making their living through Writing.
Well, I am sure those examples would definitely inspire you. And you are pumped up to get started and bring spark in your writing and make money.
Well, they are just a few, there are many freelance writers who are living their freedom of life by writing blogs.
YES, write where ever you want in your leisure time to meet the deadline. And make a living out of it. 🙂
Now, let's talk about, how to get started.
Prepare Yourself to Start Freelance Writing
If you are not a writer, then you will definitely need to read some good writing blogs to learn the art of it and keep practicing.
If you can write quite well there are only just a few things you need to get started,
an internet connection,
a laptop,
that's it.
You just need to do some research on the topics you are interested in.
The topic could be anything but make sure you that gives you pleasure to write. Could be,
Technology, Gardening, Health, travel, and whatnot. It could be anything.
You can always get clients on your interested topic.
Be honest!
Read: Over the web, you can get plenty of blog post ideas to start working with.
Quick Tips For Writing
You can not write on all the topics, Pick one, research and try to master it.
read a few blogs, understand the writing tone.
Practice it for a few days
regularly write on platforms like Quora on those topics or probably on your word document.
Practice, practice, and practice. You need to do it constantly.
Content Marketers or your clients need well-researched content only. So you need to understand the topic closely.
The better the content, the better the payment you can charge. this is why you need to excel, before asking for gigs.
Don't pick any topic for the sake of earning money through writing. It won't be lasting for a long time, as you won't be able to deliver the right quality lack of interest.
Create an impact, which lets your client realize, you are an experienced freelance writer.
Groundwork to Get Clients As a New Writer
You are a beginner and looking for writing opportunities. But, getting clients without having a portfolio could be a nightmare.
Yeah, signing up in the job portals is not enough. You need to sharpen your writing skills to draw client attention.
How?
create your own blogs for free. Write on it and build your portfolio. Showing your portfolio is the quickest way to impress potential clients.
Looking at the long run, I have started the blog on WordPress to make it more professional and get content gigs. Yeah, it looks more professional than the free blog platforms.
Well, it's the same blog. 🙂
TRUST me while being in the initial days of blogging, this is the perfect way to motivate yourself and get paid for your writing. And moreover, by writing continuously on your blog, you will get better.
I understand, you want to be a writer and you don't find genuine work for writing, it can really be frustrating too.
Nevertheless, you can just go through the below-mentioned websites in order to get the right profile and to pursue as a freelance writer as a beginner.
Freelance writing jobs for beginners
You can simply refer to these below-mentioned websites and the pages that will help you to find the right job to continue with your writing passion, and you can also turn your hobby and passion to a full-time career that will earn you a good monthly income too.
1. Facebook Groups
You can also find writing jobs in social media that you might go through daily scrolling the feeds.
Well, don't underestimate Facebook Groups at all. Those are one of the quickest ways to get gigs.
Content Writers FaceGroup Groups
Yeah, there are several Content Writer Groups on Facebook. You just need to join them and look into the people's requirements.
Most of the content marketers and bloggers often publish their requirements in the groups. Find a suitable writing gig, and approach them with your portfolio and charges.
You can get gigs at most on all kinds of topics. Be it be WordPress, SEO, Digital Marketing, Food and Cooking, Health care, Travel, Finance and marketing, Bitcoin and what not.
---
It is a popular and a great website that will help you to put on the right and a genuine website.
You just have to register or sign up on this website and just look for the opportunities.
Don't forget to submit a sample writing of yours. Once done, if they find your article attractive and unique, you will get paid in your Writer's domain account.
---
3. Upwork
Upwork is another popular and famous website that actually provides en number of opportunities for various fields and categories.
Upwork helps you to get the right job provider and also a genuine job provider in various fields and industries.
Yes, Upwork also has writing opportunities that will help you to get the right client with a good budget.
You just have to sign up on the website and keep bidding in the opportunities that you find relevant in your field.
---
Guru is another popular website that provides en number of opportunities for the writers in the market.
If you are a beginner looking for writing jobs as a beginner then Guru could be the right portal to get you the desired profile with genuinely.
You just have to register or sign up on the website and make sure that you have updated all of your profile quite honestly.
It is one of the dominant freelancing industries all across the market.
---
If you are a passionate writer and want to continue writing in the same field, then you can enter this ProBlogger market with all your passion and writing skills.
It is very suitable and compatible with a full-time job as a writer as well.
If you can give that much time for your writing then this is the right platform for you.
You can also choose to be a freelance writer in the ProBlogger website.
---
This a website that provides clear and clean blogging and writing tips for the beginners to begin and pursue the freelance writing choice.
Write life jobs will not only provide blogging and writing tips to the writers but also will provide the right job for your passion.
Again, you can choose to be a freelancer here. You just have to keep checking their job board to get the right profile.
---
This is already very popular, and hopefully, you won't need that much explanation as well.
WorknHire is a website that again provides en number of opportunities to the passionate job seekers and freelancers.
If you are a beginner in writing, then again this one could be the right option for you to start with writing and pursue your passion.
Also, here you have to register and sign up for getting proper opportunities and to choose the right and genuine client.
---
Don't have to let you know about this.
LinkedIn is already quite famous and a large portal for connecting with the clients, job providers and fellow writers as well.
Once you have created your account here, you will be able to find jobs, follow other writers and expand your connections and contacts too.
LinkedIn is a genuine and professional site that not only leads you to the right jobs but also to the right and high experts in the field.
---
9. Project4Hire
Of course, this is again not an old player in the job providing market.
It provides the right freelance jobs as per your requirement and as per the request and bids that you have posted.
It helps various freelancers from several fields for sure.
---
Textbroker is the most talked-about freelancing website that provides opportunities and jobs for both clients and writers.
Not just for the writers but also for various other profiles and the categories.
You need to be very sure about the profile that you are choosing.
Make sure that you are writing unique and great content for the website.
Once you write up gets approved, you will be paid for sure in the account.
---
Another fantastic website is writer bay. It pays up to $20 per article in multiple categories.
Choose what you are good at and write awesome content around. And eventually, you could bag the maximum they could pay.
---
This is a fantastic freelancing writing job portal and particularly dedicated to the writers who can write a press release, Amazon reviews, mesmerizing blog posts, e-books, kindle, cover letters and more.
Founded in 2011 and going well for the freelancers and for those who want their writing jobs to be get done quickly.
---
Get registered here, you will be get paid according to the words you write and the rates have been fixed.
Though, the writers get paid according to their experience and expertise beginner, General, skilled and expert. You can grow gradually.
And the experts get paid around $25 for only 700-1000 words.
---
Your Turn to Write and Earn Money Online
You might find several people thinking about how to earn from writing, or how to pursue a passion through writing.
After all who don't want to make money online doing what they like to.
These above-mentioned writing jobs for beginners are the best websites that will provide the right amount of earnings along with excessive knowledge in the writing field.
If you want to learn and earn then choose these website s and become an expert writer. These are the kind of websites that give you money.
Don't hesitate.
Even if you have no idea about the topic that you want to choose, or about the niche. It doesn't matter you can very easily become an expert writer gradually after you have learned and gained an equal amount of knowledge and experience.
All it requires is practice, more practice.
Let me know your thoughts and doubts in the comment section below.