The business world is being forced to face certain realities – competition is getting stiffer by the day. No business can afford to continue to coast along the same paths they have been operating all their lives and expect to grow or even survive the realities of today's business climate.
No one is left out, small businesses, contractors and the fortune 500 establishments.
Every organization is being forced to constantly evaluate and re-evaluate their strategies to ensure they do not wake up one morning to find out that they are no longer relevant in the game.
Our focus in this article is the friendly neighborhood contractor who usually handles jobs for most folks in the community.
These guys have also been hit as competition on that front has also increased. To stay in business and even talk about growing, they must find a way to reposition themselves and their business for growth.
One simple way that they can achieve this is through SEO.
What is SEO?
Practically everyone has heard about SEO and at least has a basic understanding of what it is. However, just to lay a background for what we will be looking at, we will briefly go over a basic definition.
SEO, which is an acronym for Search Engine Optimization, is a set of practices or actions aimed at positioning websites better with search engines. Search engines use special criteria and algorithms to determine what position a website will occupy in its search results for any set of keywords.
SEO is therefore concerned with ensuring that websites meet these criteria by carrying out a number of on-page and off-page activities that are considered helpful in achieving this aim.
If you are interested in learning more about the inner workings of SEO, then you should read this article here.
How is this Beneficial to a Contractor?
Going back to the group that is our focal point here, how does all that we have explained above regarding search engine optimization benefit these contractors?
We will answer this by looking at two realities as we have it today. The first is that people now spend more time online and on their devices than they do in physical interactions. The implication of this is that people also first search for any services they may need online.
As of 2018, statistics show that about 52.2% of all internet traffic came from mobile devices. Combine this with the fact that about 3.7 billion use mobile devices and the average time this number of users spend online is five hours daily.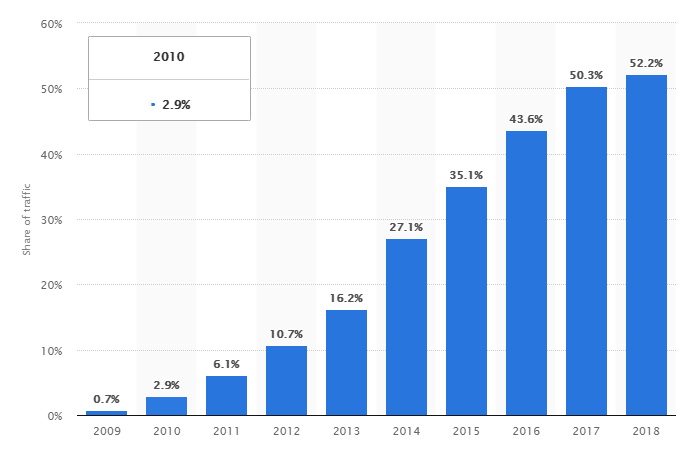 In addition to the above, we also need to know that of the approximately 5.6 billion searches carried out on Google alone, about 46% of these are searching for local information.
By local information, we mean searches for painters, contractors, bakers, and other services within a specific geographical location. The picture should be getting clearer now.
We already stated earlier that people search for services from mobile devices, even local services. This explains why businesses worldwide spent about $138.1 billion on mobile ads because they understand the traffic that comes from that angle.
The second reality is that SEO is not what it used to be. It has evolved and now includes an aspect known as local SEO.
For the contractor who most of the time looks for clients from a specific region, local search or SEO is something they need to take full advantage of.
1. Understanding Local Search
Local search is also known as local SEO or "near me" search. It usually involves the use of keywords with specific locations.
For example, if you live in Valley Streams and you need a contractor to help you with some jobs, if you just search for "contractors, even with your device's location on, you will likely still get contractors from across the country if not from around the world.
If however, your search phrase is "contactors in Valley Stream" you will have narrowed down your search such that your results will only be for contractors in the stipulated area.
That is what is called a "near me" search. Local SEO, unlike the general one, is therefore targeted at helping the individual rank high for these local searches which we have already been told accounts for about 46% of all Google searches.
As a contractor whose business is largely local, this is the aspect of search engine optimization that really concerns you. Your aim should be getting into Google 3-pack.
2. Google 3-Pack
This is a box that usually appears at the top result when a local search is carried out. In this box, you will find three websites related to the search phrase with their contact details, ratings, and review.
Because of the way this 3-pack is designed, the bulk of the traffic for those search phrases will go to any of the websites listed in the pack.
Optimizing your business as a contractor to feature in this pack is, therefore, a goal worth having especially if what you want is a real increase in clientele.
3. Choosing an SEO Company
All that we have talked about above requires high-level knowledge and understanding of the workings of SEO and the criteria that search engines look out for.
In most cases, this is not something that just anyone can take on. There is usually the need to seek the help of experts.
Given this, we shall therefore, conclude this article by looking at a few ways through which you can find the right SEO service to handle your business' optimization needs.
Get Recommendations – First, ask people you know for recommendations. If they know any company that can get the job done, it will be a much easier route.

Search Online – In the absence of any recommendations, search online.

Check Reviews – After searching online, check out what people are saying about the companies you shortlist.

Check their Website – You should also visit their website to see how well it is doing. If they are good, their website should be performing well.

Find out about their Past Jobs – Try to find out what past jobs they have done and what results they were able to deliver.

Discuss Strategy – Top services like Contractor SEO spartan will offer you a free analysis of your website.

After their analysis, try to find out what strategy they will want to adopt if you were to enter into a deal with them.

While they are not expected to give you the entire details of their plans, you should at least be able to feel confident in the plan they share with you regarding what they intend to do with your website.
After their analysis, try to find out what strategy they will want to adopt if you were to enter into a deal with them. While they are not expected to give you the entire details of their plans, you should at least be able to feel confident in the plan they share with you regarding what they intend to do with your website.
Conclusion
Like we stated at the beginning of this article, times have changed and the game today is different.
Every business must rise up to the challenge and innovate or go burst. SEO is one thing that can tremendously affect any business for good.
Get this well sorted out and watch out for amazing growth.