Well, we all know that whats App is one of the popular chat messenger these days. In fact, it is the only chat messenger which every smartphone users can't stop their selves installing. It's almost a common app for all.
A lot of chats and media is being exchanged in worldwide through WhatsApp. And WhatsApp backup restore feature is already in place.
So why not store all those important messages and media permanently somewhere and access anytime going forward. As we don't need a third party application to backup WhatsApp Messages and media, so we can do it swiftly.
In fact, it's quite important to back up those conversations because of several reasons mentioned below. If you want to do so safely and securely, then please keep reading this article.
And in order to backup, the entire data nothing can be better than a cloud storage like Google Drive.
Why you should Backup WhatsApp Messages And Media
Reasons 1
You may have some important work-related or confidential information on your Whats App chat and you want to protect those Chat/Media for future, so that you should not regret of the data loss if you phone lost or accidentally formatted.
Reasons 2
You may have some private messages, chats, pictures or videos that you don't want to be loose. You can take a backup of your Whats App messages or media such as pictures or videos so that they are stored securely anytime.
By taking a Backup to Google Drive the media will be stored safely. And moreover, you can download WhatsApp backup from google drive anytime you wish. In an addition also can be restored if your phone got lost or formatted. The process of restoring has been explained below.
Reasons 3
There could be one more reason to take the backup, most of the time you might require saving some memory on your smartphone, it happens to me all the time as the smartphone has a limited memory with it.
And what so ever the phone memory is, never been enough for me.
I am sure most of us have the same issue. So putting all the stuff into the cloud backup and freeing up some space is a good idea.
After taking a backup you can delete your messages and media from your phone free up the storage for new data. You may also transfer the chats as well, Download Latest 6.30 Version of GB-WhatsApp Apk to do so.
Seldom if the phone memory gets low, then WhatsApp automatically detects it and sends prompts a message, saying as "backup your messages and media" and until u won't select, it won't let you log in to the WhatsApp account.
haha….!!! sounds crazy .. but actually, it happens…..!!!
It will ask the frequency of the backup and shows some option to get selected.
Daily
Weekly
Monthly
Never
Select one of the frequency, whatever is an ideal time for you to backup the content. WhatsApp will memorize the same and will back up the content accordingly. Next, it will ask to select an existing Google Account.
Then WhatsApp will ask for the permission to allow the access to Google Drive. Select Allow to continue the process. And there you go. Rest will be done by the application itself.
How to backup WhatsApp to Google Drive: Chats and Media
If you want to manually configure the backup then.
Open your Whats App and at the right top corner of the app, we can find options (three dots), click on that, it will get you a drop down, amongst all the features select "settings".
After getting into the setting, select "chats and calls". next step is to click on the Chat backup.
And it will take us to the next page, Click on the green Backup button.
All your messages and media will be stored on the Google Drive. and you can free up some space on your smartphone.
How to restore WhatsApp backup from Google Drive
In case the mobile has been performed to reset due to some reasons,  all the chat and media will be erased from your phone, in such case we can restore it from the backup from (Google Drive) which we have already stored earlier.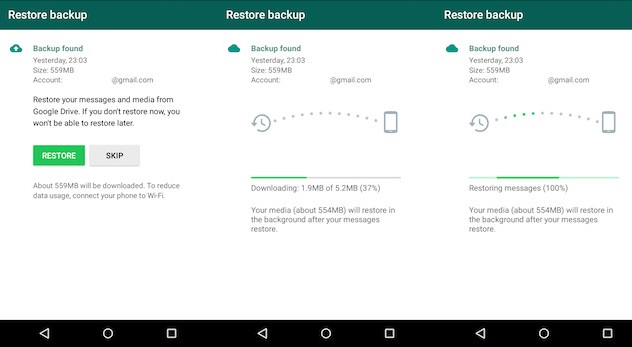 Once you install the whats App application again into the new device or on the same after formatting it.
As Launched Whats App on your phone, it will ask us to  "Restore". Whether we want to restore the existing content (chat and media backup).
Click on restore if you wish to restore the entire data which we backed up in Google Drive. Rest will be done by WhatsApp automatically.