Creating a wedding website is becoming increasingly popular among couples recently.
Why?
Because people always strive to keep the memory of the most important events!
Some people just create a family photo album, some make the video chronicles, and some of them are engaged with scrapbooking.
But today, more and more newlyweds create their own wedding websites, and this is not just a modern and beautiful format for storing all your wedding memories.
It is a tool that will help you to place all important information about the wedding in one place, and it has various specific instruments that will help in its preparation. Enjoy the most important moment in your life. And forget about stress!
Now we will tell you how to create the perfect wedding website!
You can use Weblium AI Website Builder to create a website that meets all your requirements in no time and absolutely for free!
1. Wedding Site Benefits
Invite guests to your wedding in an unusual way! You can send the invitations directly from the site. In addition to the text of the invitation, you can provide links to all important information without making endless calls and answering tons of questions!
Want to introduce guests to your beloved one and other guests? The wedding website is the perfect option for this!
With the help of the wedding site, you can tell your guests all the nuances of a wedding – from the wedding cake to the wedding procession route!
Share unforgettable moments! Upload photos to your wedding website and share the fun moments of preparing for the wedding, the best shots from the wedding and photo history of your family life with your friends!
On the wedding website, you can keep a diary of preparation for the wedding. Here, you can share all the emotions and events with your friends.
Your friends from the other cities/countries, that couldn't manage to visit your wedding will be able to virtually congratulate you and attend the celebration, watching your wedding photos or, having connected to a live broadcast, witness the event from elsewhere in the world!
2. Wedding site functions
The wedding site has three main functions:
inform guests;
simplify the preparation process;
and collect pleasant feedback and moments!
10 Must-haves of a perfect wedding website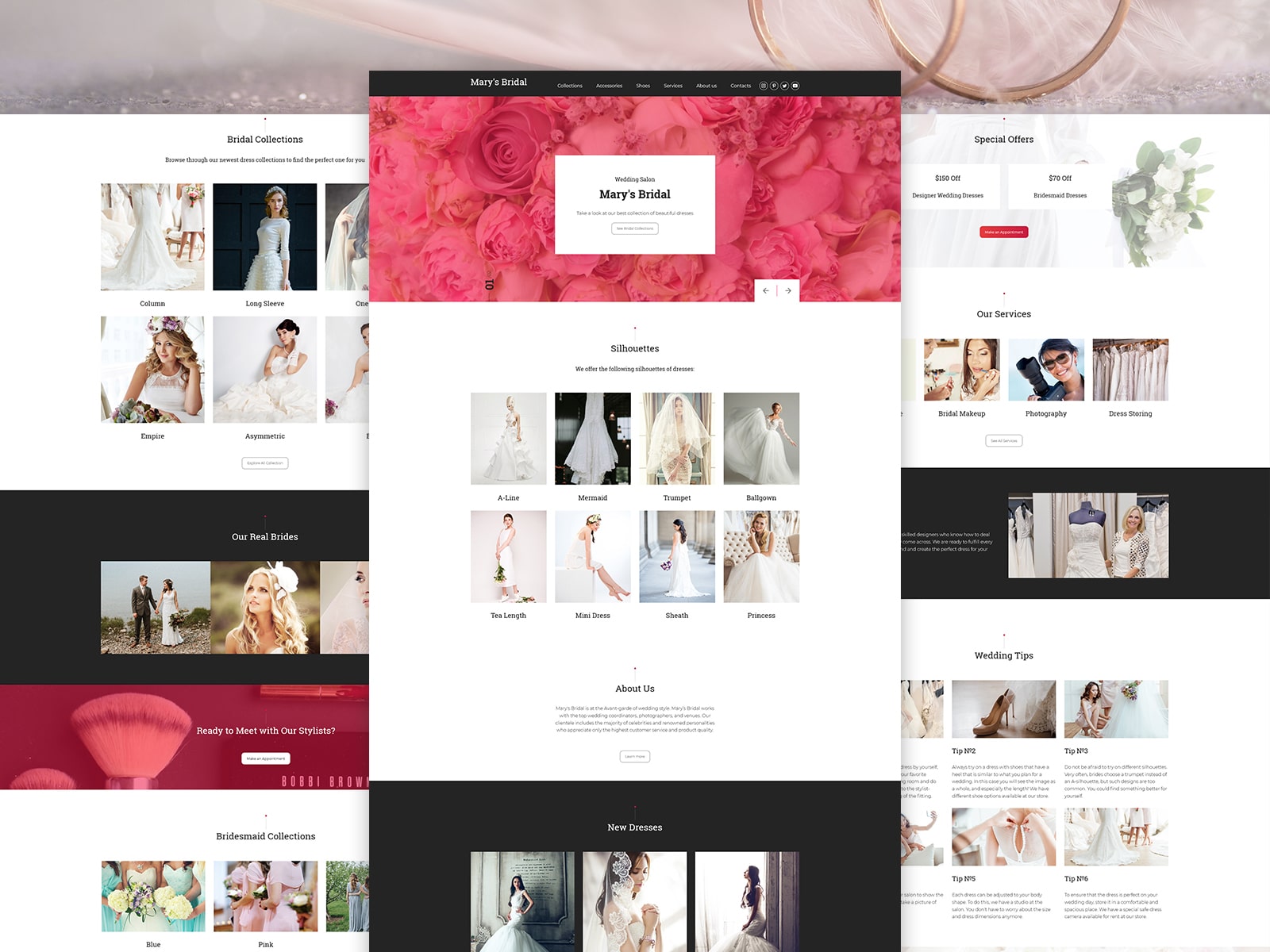 1. Design
Your wedding website design depends only on you and your tastes, you can use one of the ready-made templates, modify it and add your content, or you can hire the developers & designers from the studio and create a unique design concept of your wedding website.
On Weblium, you can easily choose the modern wedding website template you like and use it to create your perfect wedding website right away!
You will easily create a wedding website that meets your personal requirements, making it in style of the upcoming celebration!
3.2. The love story
Share your story of dating with all the guests, tell them how the offer was made. Add stories with colorful photos or videos of the love story.
3.3. A list of guests
Add a list of invited guests on your wedding site, a seating chart, publish the best comments from guests in a guest book.
3.4. Wedding venue
Tell the guests about the wedding venue: what is the best way to get to the place, whether they will need a change of clothes, a warm sweater or an umbrella. Describe all the details from restaurant to program of the event.
You can even describe the entire chronology of the events of this unforgettable evening so that guests can get ready and evidence all important moments of your wedding.
3.5. Photos of preparations for the wedding
Add photos with your beloved one, photos of preparations for the wedding. If you want to make some moments available only to closest friends, you can easily protect certain pages with a password.
3.6. Wish List
If you do not want to get two coffee makers or three sets of pots, make sure to create your wedding wish list. It is a good idea to specify the mane of the store where they can buy all the stuff.
Believe us your friends and relatives will appreciate your concern!
3.7. Dress-code and other details
Themed weddings are always bright and unforgettable and so are the photos! And if you want to keep your wedding in a certain style or color scheme, then all the guests should know about the details.
Visualization is always the best solution! You can add photos to the site, show guests the style and colors of the celebration, specify the types of accessories and name some popular places for renting dresses and costumes.
3.8. Wedding guestbook questionnaire
How are you supposed to know the menu preferences of hundreds of people? Or remember the certain flight number? Or find out if a guest needs a transfer?
There is no need to call everyone: add a questionnaire on your wedding site, and all the information you need will be easily added to the table!
3.9. E-mail newsletter to guests
During the preparation for the wedding, some details may change. And so that the guests wouldn't miss anything, you can send them a reminder.
All letters can be designed in the same style as the wedding website.
3.10. Photos and videos
Admit that it is much more convenient to give guests a link to a site than upload photos to different social networks or Dropbox!
3.11. Additional things you can add on your wedding website:
invitation text (or video invitation);
info about the wedding staff photographer, master of ceremonies, etc.;
schedule of the wedding day;
a brief description of the evening program;
a survey on the menu;
useful information about the venue;
integration with social services.
Final Words on Wedding Website Tips for perfect website
Following above all the wedding website tips, will let you create a page which will work for you and could save a lot of time.
Hence people like to create such wedding website.
What are the tips you can offer to create a professional website for wedding.