Don't get enough clicks on the blog posts in SERP Why?
Because the Title you are using is very boring and people don't interested to click on them.
So what to do?
Here, In the post, we will share the best title generator tools which you can use and increase your CTR(Click Through Rate) easily.
You are spending a lot of time just creating your title but you know that you can use headline tools and save 90% of the time.
You already know that "First Impression Is The Last Impression"
If you give the best impression on the first time then visitors easily become your regular reader or become your fan.
You know that many bloggers and webmasters don't realize that CTR plays a vital role to stay right at the top.
If you are at Google's first page, then you need more clicks against the other web pages, to stand right there according to Google Algo. This is how RankBrain works.
CTR is the Click-Through Rate who is calculated on the basis of the ratio of the user who clicks to the number of total page views.
So it thinks you understand about CTR, So let move to others.
---
Why does Good Title help To Increase CTR?
You know that title is important because up 80% User doesn't read the blog even not open them because of boring title.
So Try, To make an eye-catchy headline that fills curiosity in users to click your blog post and check.
If you don't believe see the example here –
Here You can see the difference but wait let me that you why my article Title is perfect and eye-catchy.
In my article, you can easily see I used a power word which makes my title eye-catchy and I also explain that I am telling about Youtube Videos Ideas.
But on the other hand,
This other title is boring because they don't include any power word and don't add which platform they are talking about.
I think you get an idea that title is important to increase CTR as well as instant traffic.
Let's Move On,
---
Tips To Craft Your Own Attractive Title
The tips which I have sharing are more helpful if you implement it,
Believe me, after reading this portion you got some idea that how big bloggers make their headlines.
For increasing CTR you already know that we need an awesome headline that works great for your site and help you to boost.
Add Power Words – Adding this type of word helps you 12.7% to increase your CTR than normal words. Power words also help you to build curiosity between your audience.
Add Your Primary Keyword – Adding primary keyword in the headline helps you in SEO and Boost your ranking 15% then your now ranking,
Believe me, Adding primary keywords helps you to gain some boost your CTR and this can help to craft a good title for your blog.
Use Question – You have to ask a question in your title because it helps the user to understand your headline and read it If you have added value in it.
Let Take Some Example –
If I search on google about "how to do SEO" what you think I find?
Any answer?
So here the answer just see the below the screenshot –
You can see here I simply search that question and you can see here I got the answer so it's beneficial to add a question in the title.
Note – Only used question in "how to do" post which helps you to increase CTR.
Add Numbers – If you are writing a post then you can add numbers that help you to Boost CTR.
And you know that list posts always works like a charm so you can use it.
I think you got an idea that how you can craft your headline/title for your blog post.
Want some free template to easily craft a headline by just adding word?
Then there is some bonus template for you that you can use and craft your headline.
---
Bonus Templates For Make Your Own Attractive Title Without Any Tool
Here are a few templates to help you understand it better to create good blog titles.
---
9 Best Blog Title Generators To Increase CTR
Not want to waste your time by crafting own title?
Then there is some awesome title generator tool that you can use and get the title which helps to increase CTR.
1. SEOPressor
SEOPressor is the tool which helps you to generate title at free of cost you can easily use this and make a good title for your blog easily.
You can just add your keyword in the box and you got many titles about the keyword and you can use them and give some boost on CTR.
This tool easy to use you have just put the keyword in the box and click on generate title and it will generate title about the keyword which you entered.
---
2. HubSpot Blog Ideas Generator

Hubspot blog idea generator is another awesome and free tool which you can use and generate blog title/ideas with this tool.
You have to add your main keyword in the box and click on the add button and you will see some awesome Blog Title.
The title generated by this tool gives your high CTR every time.
---
3. CoSchedule Headline Analyzer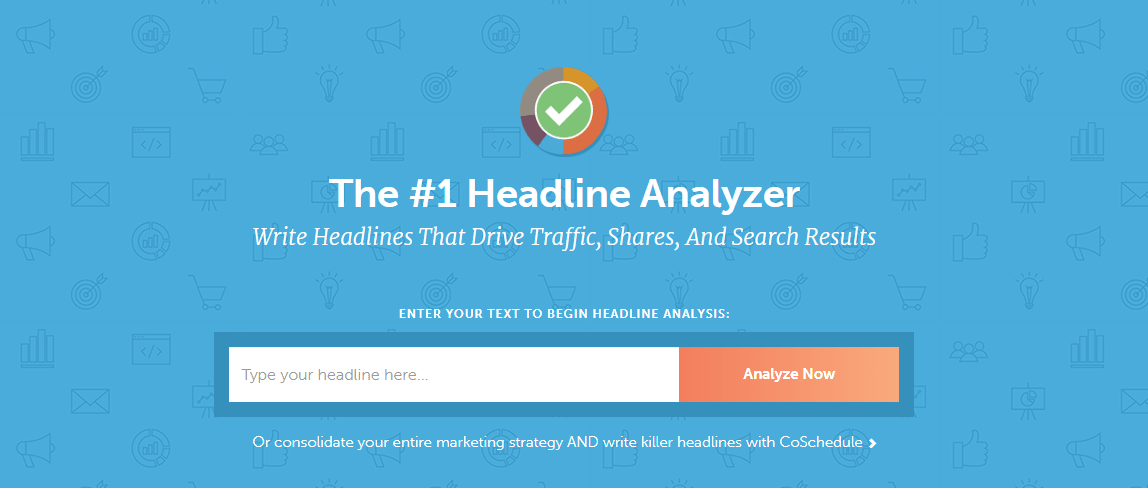 Want Proper headlines? Here is the Coschedule headline analyzer which gives you features to generate a good title for your blog post.
Simply put your title/ keyword in the box and they give you the title score that it is better or not and gives your score out of 100 overall.
You got some amazing headline which you can add in the post and increase your organic CTR.
---
4. Thrive Headline Optimizer
Thrive headline optimizer is a paid plugin which available with thrive product and this helps you to save 95% of the time which you spend on crafting headlines.
This plugin makes automatic changes your simple title into the awesome title in one minute and they also have an optimizer test which you can use and see how many people are engaging with these headlines.
You can give a try to this plugin because many top bloggers using this and get some boost in CTR.
This tool very helps you to generate title which helps you to increase CTR and it always helps me to create a good title for my blog in less than 5 seconds.
---
5. Blog About Title Generator By ImpactBND
ImpactBnd Title Generator gives you the automatic templates which you can fill and generate a great title.
You can simply change the templates and choose the best one then customize edit for use. This is a free tool which helps to generate awesome blog title ideas or headline for your blog post.
---
6. Fatjoe Blog Post Title Generator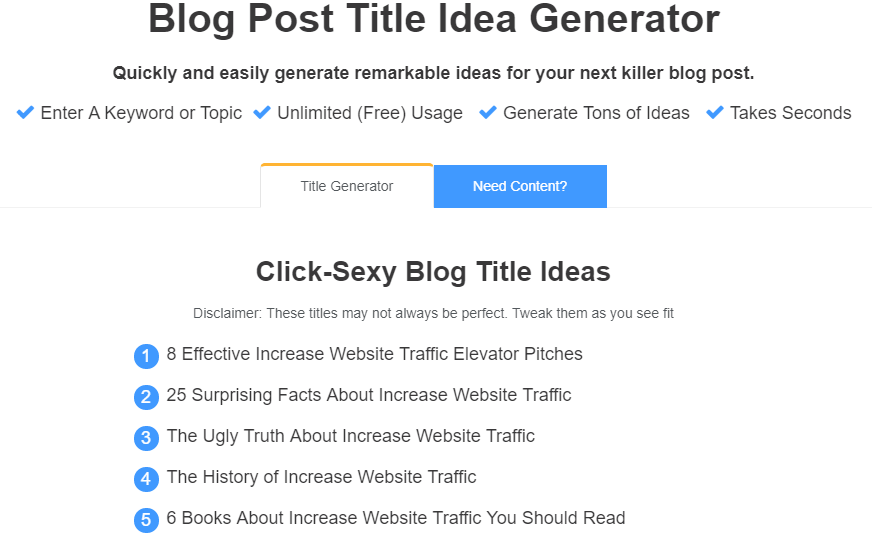 Fat Joe title Generator helps you to make a killer headline for your blog post. They give you a ton of ideas in just a second. You have to only enter your keyword/topic and get ideas quickly.
This tool really helps you and gives an amazing title for your blog post.
---
7. Title-Generator Tool
Title-Generator tool is my second favorite first is thrive headline optimizer. I used this tool to generate some catchy headlines for my blog post.
You can also generate email subject headlines, an emotional line that attracts users and this all title you can generate in one click.
Sound Amazing Huh?
Yes, This tool is very helpful and you can use this tool to get more click and increase CTR quickly.
---
8. Hoth Headlines Generator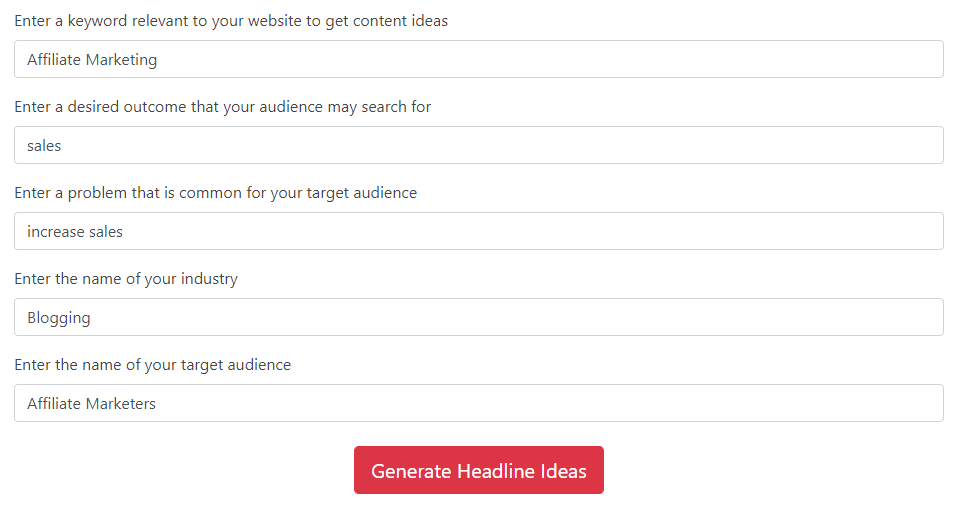 This tool is very great because this has more option than other you can enter your keywords, Outcome, Target Audience, Industry and many more and this gives you the best title in your field or the title you want.
You can give a try to this tool and see how's this performs for you. The tools which I mentioned here are all the best handpicked of mine and some other top bloggers.
---
9. Portent's Content Idea Generator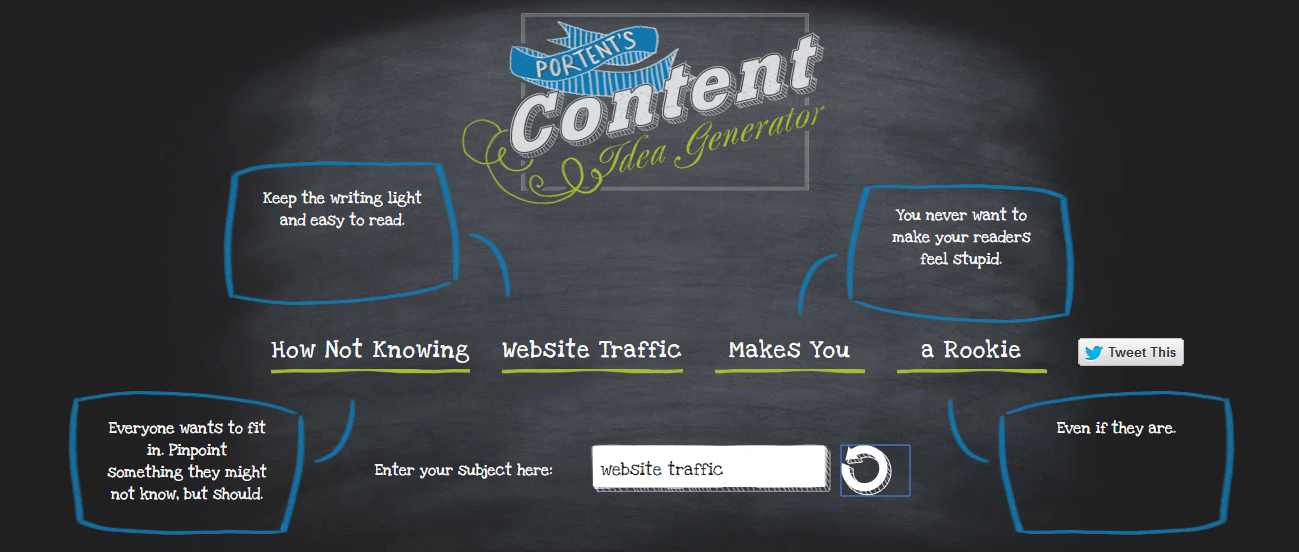 This tool is very simple and easy to use. You can generate quite an amazing tool by search here.
You need to enter your keyword or topic then click the enter button and you see some amazing headlines which you can use in your blog make increase your CTR.
You can try these and do the comparison with all other tools to find which one is best for you.
---
Now it's your turn
I hope this article is very helpful for you and helps you to increase your blog post ctr.
For generating some eye-catching title you have test every tool which is listed here so you can find the best title for your blog.
Note: Don't add some word which gives bad impact to google and maybe if you add so you can lose your ranking because the title is important for ranking and increasing CTR.