So do you love WordPress?
I know you do, and there is no reason one shouldn't.
WordPress is the most used CMS around the globe, because of its flexibility and availability of a wide range of themes and plugins. And that makes it easier to manage the websites easier to the webmasters.
As said, a wide range of themes, we always keep on digging new themes for our new sites and want them to be SEO friendly and fast Loading.
And during that, I came across a really wonderful WordPress Theme Provider HappyThemes.
Yes, I found here a highly SEO Optimized and fast Loading WordPress themes. Don' believe? Let move on further to know better and make the best choice for your site.
Just like the site named, it will certainly make you happy with the themes they are offering.
I always go with lightweight and SEO Optimized WordPress themes which makes the better user experience by the loading speed and tend to have higher conversions.
A cluttered websites having too many things around never works at all, though it might just look like a fancy piece. But, doing nothing.
A WordPress theme which loads faster and well coded to be completely SEO Optimized to rank should always be the priority.
Okay, before going further take a small sneak, how these WordPress themes look like,
SEO Friendly WordPress Themes
---
Reasons to Consider HappyThemes for Your WP Website
We look on plenty of aspects before opting for a WordPress provide, here are few of the priority.
Some key aspects of these WordPress Themes
Fully Responsive Design
Customizable Themes
Clean Coded and Budget Friendly Themes
Well Speed Optimized
Search Engine Optimized (SEO)
1. Customer support
This is the major aspect while buying a WordPress theme, or in fact, buying any services to look on.
Seeking to have a 24/7 customer support might not sound one of the priority but it could be realized when you have some query and no one there to answer at another end. And you are stuck, damn bad feeling.
Fortunately, happy themes are always there to help and pretty quick with the responses.
I had tested it, by throwing some random queries through email and it got answered in a couple of hours. Not bad!
2. Optimized WordPress Themes
Having an SEO Optimized WordPress will make the work easier and reduce the efforts.
As it would be helpful better to crawl by the search engines better and helpful in doing further SEO to rank better.
Although these days the developers are focusing on creating SEO Optimized themes, few WordPress themes are always having that edge, which makes them separately from the rest.
Choosing an SEO ready optimized theme is essentially important as that depends on your overall SEO outcomes and blog or website growth.
3. Unlimited Domain Usage
WordPress Themes doesn't cost too much, but if you handle plenty of niche sites, micro niche and more, then buying an individual theme for all the websites could be a pain.
As most of the theme provider provides a key to activate the themes which are valid of only one site and at times a couple of sites.
Surprisingly, all the themes provided by happy themes can be used on multiple domains, not a restriction at all. That means if you have 20 blogs, get a theme which you like and apply for all.
And if you want to provide a unique essence to all, customizations can always be done.
Or, you can also get the affordable lifetime access subscription package to access all the themes and at cost of a single theme. This is what they say,
---
You should never miss a chance to get a good package of SEO Optimized WP themes. Here is the HappyThemes 50% off coupon code: SAVE50
5. Clean Coded Themes
A clean code theme can be beneficial in several ways, as it would be lightweight, readable, and makes the site loads faster and avoids throwing unwanted errors, and make your WordPress website much secured.
Apart from that, it takes part in helpful being in the search engine friendly as well. That's important, right?
4. Frequent Launch of New Themes
Who doesn't want upgraded themes according to the trend?
All the new themes launched are completely developed according to the trend.
As a theme is the face of your website, upgrading it with some additional features always makes sense to provide better user experience.
Once you have lifetime access with Happythemes, that means all the added and newly developed WordPress themes can be accessed without any hassle.
3. Inbuilt Coupon Plugin
WordPress users, always sell products and services through their websites.
And the companies and creators to encourage the same by offering the affiliate commissions. As it is always a win-win situation for both the end.
But, affiliate marketing should be done well, it not just about throwing something to your readers, it should be well presented.
And to do that, we have plenty of plugins in the WordPress repository, but what if we get the same feature inbuilt in your WordPress themes itself. Sounds cool, isn't it?
You don't have to search for the plugins anymore, just install the themes and you are good to go as they offer inbuilt coupons with the themes.
No more hassles, whether the theme and plugins would be compatible or not, as it's already tested.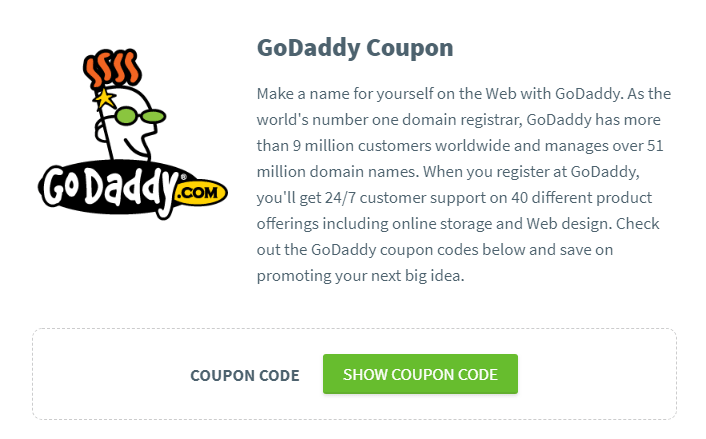 Above is the example how soothings the coupons would look alike and converting it could be. It can be placed anywhere in between the post.
Worth Read: How to Choose Best WordPress Hosting
5. Fast Loading Themes
A theme which is cluttered, and too fancy to look doesn't perform the way it should be.
Despite having great content if the content is not converting and making you any profits, then certainly you need to look into the theme.
WordPress theme is the body of your blog, and it should be well structured to make the user experience better.
After all user experience matters right, as those are the known important ranking factors.
Boost your web pages in the search engines with a fast loading WordPress theme by reducing the bounce rates, increase in page views per session and time on site with the content provided. Help your content with a great theme.
So, what do you think about the pros of this WordPress, let's have a look at the cons as well? Let's make it transparent.
I have checked this out on one of the newly created blogs, results are pretty awesome without using any caching plugin.
Note: Although, it is a new website with less page size and HTTP requests, the loading time and scores are pretty impressive shown in GTMetrix results, without any tweaks.
Some further tweaks and using of more caching tricks can even make it better.
Cons About HappyThemes
I had tested these themes, and those are well coded and loads swiftly, but whereas the cons are concerned, there is no theme panel
Cons – No Themes panel
But, for most of the folks, it's not a huge turn-off, as a theme can be customized from the WordPress customizer easily. If further required, even from the child theme, modifying things from style.css
The call is yours obviously, it's all about the individual preference.
So, what could be the best option or theme to pick for your blog or website? If you are puzzled, check out the WordPress themes let me line up a few after testing those.
My Pick: Best WordPress Themes
For the very obvious reasons, a theme should always be chosen according to the niche. Every individual niche has a unique requirement so that it should convert to the best.
Let me line up a few which I like the most after testing.
This is a stunning WordPress theme, and I had already applied this for of my new blog, and I am loving it.
It has a clean look, decent page layout, and menus animations, converting sidebar. And drop shadows around the page, which make it more appealing.
In addition to the same inbuilt subscribe bars, below the header, sidebar and in the post can build your email list quickly in no time.
Most importantly without installing any extra plugins. And if you are an affiliate marketer then you would certainly love their inbuilt Coupon system, shown above.
---
Revenue is a perfect fit for all the niches, either you want to help you readers with How-To tech guides, WordPress, and even SEO related stuff. It won't be wrong.
A powerful slider to increase the page view and showcase the post you would like to is just awesome.
Clean sidebar with Subscribe form and other interesting widgets make it more opt-able. It also had four column footer.
It is available with two homepage layouts, list and grid styled, along with a full-width post layout. Easily can be switched according to the preference
---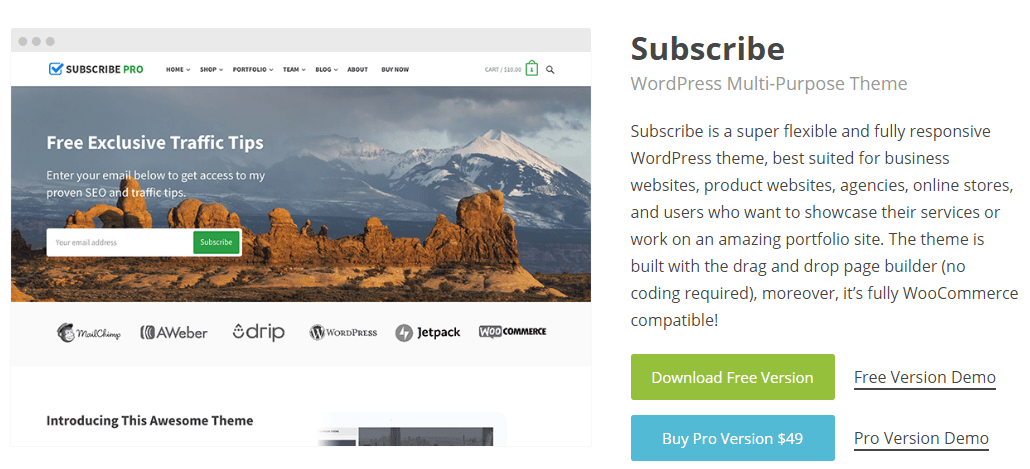 Subscribe Pro is basically a multipurpose WordPress theme, that means it suitable for a business website and make better business blogging to increase ROI, Digital Agency and even for freelancers as they could show their portfolio with ease.
And moreover, I would say if a blogger who is creating a brand around can also opt for it.
It is having a great landing page to showcase testimonials, services etc. And just like another themes come with a great footer, which plays a crucial part.
I like the way, the email subscriptions section placed at the top to build your email list quickly.
---
Another Multipurpose theme for the bloggers can be used for any niche. Perfect fit for WordPress, SEO, and Tech bloggers. It is well optimized for Adsense as well.
A clean menu along with the head ad section makes it convertible. It can bring up good Click-through rates for your advertisement and affiliate ads.
---
Here are two Bonus themes launched recently by Happy themes,
So, which one you liked more, I know, it's not that easy to choose from the huge list, although I would recommend getting the Lifetime access to all themes, which priced almost the same as one WordPress Theme. Take all choose later for all your blogs.
Happy Themes Pricing
Here are the happy themes fair deal, this is something which can pop any one's eyes.
Despite having stunning WordPress themes, their pricing is affordable and completely different from the rest theme providers.
If you are looking for stunning looks and make your website attractive and want to go with only the required features, no crap.
This is the right deal, as you can get all themes accessible in as low as single theme cost. And, lifetime access can be achieved by paying just $10 extra.
Just, think of it all WordPress themes access for a lifetime as low as a single theme cost. I would leave up to you, which one you would like to go with. My take is always lifetime access.
Take a sneak,
---
Save Additional Bucks with the Happy themes discount – 50% off coupon code: SAVE50
Final Verdict on WordPress Themes by HappyThemes
As it can be seen, the themes are captivating and look soothing to the eyes, which makes the user experience better. All the themes are well coded so that makes it load faster.
And moreover, all the WP themes comes, just in a cost of WP themes for a lifetime and can be installed in multiple websites.
Personally, I couldn't find any better deal than this, highly recommended. Its all about, creating a better website and reach your business goals efficiently.
Over to you, which one you liked the most?