So you are looking for online grammar checker tools 🙂
Writing error-free without having any grammar and punctuation mistakes is one of the extreme dreams of almost every writer.
Are you too one of them?
Aah, nothing wrong in accepting. Doesn't matter how good you at verbal, grammatical errors are quite common while writing.
All those freelance writers who said yes, you are on-board. Let not the world know about those tiny errors.
As being a freelance writer or blogger it's important to deliver error-free content to the client and readers. As the content which contains hell lot of errors leaves a bad impact altogether.
These are some essential tools to easily find out the grammatical and punctuation errors present in their articles so that they can easily remove them.
---
8 Best Online Grammar Checker Tools
If you are also looking for such tools that can enhance you're writing skills, we are here with some best online grammar checker tools that you can be used your proofreaders and corrected.
Let us jump in and find which suits them best.
It is one of the best free grammar checker software available to date. This amazing tool comes up in the category of one of the most trustable grammar tool for proofreading your articles.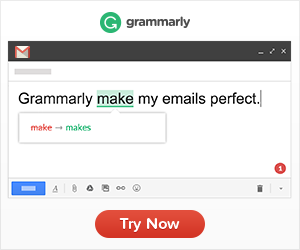 This tool enables you to fix your spelling mistakes, grammar mistakes and other punctuation mistakes and a lot more without charging any price for that very conveniently.
It doesn't matter, whether are you writing, blog posts, writing content on Social media and even while drafting an email, Grammarly will help you write awesome and perfect.
All you need to do is to upload a copy of your article on this online platform for proofreading that's all.
One of the best things about this wonderful extension is that it also offers you free browser extension as well for proofreading your special posts, emails and much more without wasting much of your precious time.
Although in premium version you can also get various powerful features like Vocabulary enhancement and Plagiarism detection if required.
---
Other Best Grammar and Punctuation Checker Tools
Apart from grammarly, there are other several grammar checker and writing tools as well. Which are worth checking out.
It is another best grammar checker that enables you to get proof-read and grammatically improved articles without wasting much of your precious time.
It is one of the best online grammar tools and best alternative to Polish My Writing that enables you to get the best results you ever had.
Check out how you can get rid of the embarrassing situations and enhance your writing skills with White Smoke.
It perfectly reads the entire content and enables you to get all the mistakes you have done in the article so that you can better correct time in no time.
Now, you don't have to worry about the ongoing grammar and punctuation mistakes, just get this free online grammar checker on your computer system and enjoy one of the best-proof-read articles in no time.
---
Qordoba is now Writer.com. Yes, you heard it right.
Well, Qordoba is a well-known name now and turned to be one of the finest writing assistants around there. It is perfect for any size of the company and lets everyone write with a similar voice tone. Doesn't matter if its a blog post or emails or anything else.
The bottom line is whatever you and your employees write, Qordoba alias writer.com allows you to write with a similar style and tone. Fortunately, integrated AI technology helps the tool to do so.
Qordoba aka writer.com lets the user and machines interact with the same intention from normal language and even data. I see the small companies are using Qordoba to make the better-localized experiences around the globe. And why not, when you can use that on websites, blog or marketing content, applications, and more. One tool makes the writing experience even better intelligently.
Reach the heights with the help of this SaaS bases intelligent solution faster and efficiently. Now available for Chrome extension, Google Docs, and Microsoft word too.
---
If you are looking forward to making your writing bold and clear, Hemingway is one of the best options you can go along with.
Along with with checking spelling, grammar and punctuation, and the relevant errors, it can keep you out of the distraction while writing.
Just assume, you want to put your ideas in the beautiful words, but the editor interface, extra tabs keep bothering you do the same. To avoid all those situations, Hemingway is the way to go.
Just split up or shorten the line if you see any yellow sentence, whereas the red highlight clearly depicted that the sentence is so dense or complicated.
It perfectly marks up the passive voice sentences so that you can easily find and rewrite it.
Hemingway also offers you the facility of formatting your text with the toolbar..
---
If you are willing to have a proper grammar and punctuation check for your articles, just opt for the free grammar check software like Ginger. It is an excellent option to go along with.
It is one of the top proofreading and grammar checking tools and the best alternative of Hemingway.
It enables you to check various errors like contextual spelling corrections misused word correction and various others just without making many efforts.
It is one of the finest grammar tools for improving your writing productivity.
---
It is another wonderful name in the series of free online English grammar check and correction tools which enables you to check grammar and manuscript editing without wasting any time.
It is one of the best English Corrector that offers you a much more beyond grammar checking.
It applies more than 5000 different improvements in your articles that can make the piece of your text just perfect.
If you are going to publish your book; it is one of the best tools you can use upon before publishing.
---
It is one of the power-packed good grammar checkers online for checking the spellings and grammar of your articles that enables you to make your articles full proof-read article.
This wonderful tool is mostly used by a lot of bloggers that work on "WordPress".
It is one of the robust grammar checker tools that perfectly check errors in grammar and punctuation so that you can have the best grammatically perfect content.
All you need to do for this is just to copy the content in the provided box and then just press on the "Check Writing" option, that's it.
---
Paper Rater is another wonderful Language Tool available online that perfectly checks all the spellings and plagiarism without using much of your time.
This wonderful software is absolutely free and you don't need to download it on your device.
It is an online grammar tool perfect to be used by students, freelance writers and bloggers.
---
Polish My Writing is another one of the finest tools available in the market. It perfectly figures out spelling mistakes and grammatical mistakes present in your content.
It keeps a keen eye on active and passive voice sentences and also offers you a suggestion for the same so as to provide you with active and fast passive writing.
---
My favorite Online Grammar Checker tools
What do you think about it, are you up for writing mesmerizing and error-free content for your readers.
I have tried all these tools and many and use constantly Grammarly and Hemingway.
However, every online grammar checker tool listed above has its space.
We probably can not compare the theme with each other. It's all about trying those and choose according to your usage and comfort level.
Did I miss any better one? So, What you can add to the list?