What is Successful Email Marketing at all?
Wanna know?
Well you should!
Email marketing has gained exponential traction in recent years. Unlike in the past where marketing used rather crude methods, emails have become an essential digital marketing tool and have several advantages to it.
When properly implemented, email marketing campaigns will convert prospects to customers while at the same time retaining existing ones.
For those who are new to email marketing, it could be a daunting task to convert leads or even retain customers to your website.
With hundreds of billions in marketing emails being sent every day, you can be sure that competition for the audience is at an all-time high, and this competition can only increase in the future.
In the face of cutthroat competition, there is a need to learn how to outsmart your business rivals.
Having the necessary knowledge of how to implement email marketing campaigns successfully will be the only way for you to send actionable emails and have value for the money you have paid for email marketing.
Let see a few crucial points in successful email marketing!
---
How to do Efficient and Successful Email Marketing?
In the following guide, we will demonstrate ways in which you can maximize the efficiency of email marketing such that your emails will have increased chances of drawing the attention of your prospects and existing customers throughout the entire period of a campaign.
1. Define your audience
Before you can start your marketing, think of whom you want your emails to reach. If you do not understand the needs of the people you are targeting, then your emails will be irrelevant.
It is by understanding the needs of the buyer persona that you will be able to formulate goals that will help you tailor your marketing based on the needs of the audience.
---
2. Formulate goals
To carry out successful marketing, you must put down goals that you wish to achieve beforehand. There should be nothing like going about it blindly. Here are some common goals which, when realized, will lead to a successful email campaign.
Informing new subscribers about the workings of your business as well as your core values
Customer engagement through content
Nurturing subscribers to ensure customer retention
Paying attention to inactive subscribers by trying to understand their needs
Subscriber segmentation so that emails will have a higher degree of targeting.
If you are thinking of how to get enough leads or subscribers, then OptinMonster is an awesome tool I came across.
---
3. Research on the best email marketing platform
There are different companies that provide email marketing services.
For you to run a successful email campaign, you will need to do research on the platform that has all the features you need based on the goals you have set.
Different platforms may offer different features. At the same time, they charge different prices for their services.
Given that you also have to operate on a budget, you will be required to choose an email marketing provider that you can afford.
Email service providers include,
Marketo
Intercom
SendGrid
Constant Contact
---
4. Understand Email Types
There are different types of emails that can be sent. Different users group them differently. These include:
Promotional emails. These are self-promotional emails that have information on sales and offers.
Relational emails. These give rewards or fulfill promises made to subscribers. They could be gifts, newsletters, useful information, among others.
Transactional emails. These are usually triggered a subscriber's activity on a website. Transactional emails could be welcome messages, purchase confirmation, signup confirmation or acknowledgment of amendment to subscriber information.
---
5. Get people to Opt-in
What is the need for an email campaign if you do not have an audience? You need to have an email list to be able to run a successful campaign. If well created, a long email list will deliver leading to the achievement of set goals.
So how do you create effective opt-ins? To create an email list, research on how to come up with opt-in forms that will be appealing and attractive.
These will serve the purpose of encouraging more and more people to sign up. Have different opt-in forms on different parts of your website to see how people respond to them. You can have the forms on:
Lightbox popups. These appear on any page. The good thing about them is that they temporarily blind the rest of the content on that page such that only the opt-in form will be visible.
Welcome gates. These are the things that welcome people to your site.
Exit-intent popups. These are pop-ups that show when a person is about to leave a site.
It is important to note that opt-ins are the best recipients of your email campaigns.
This is because it will not be easy to get an email through to a person who did opt-in in the first place.
An email provider will also reject a list of emails that were not acquired through an opt-in.
---
6. Leverage on Technology
Email marketing platforms come with features meant to enhance your email marketing experience. Knowing how to use these tools will contribute to the overall success of a marketing campaign. These tools are usually responsible for:
Easy creation of marketing campaigns
Integration with complementary software such as WordPress, Salesforce, Facebook, among others
Audience segmentation
Thorough and widespread analytics of the performance of an email campaign
---
7. Plan your emails
An email marketing campaign has to be planned carefully before it is implemented. Effective planning consists of:
Email frequency
Email type
An idea of the content
The main action that a subscriber should take which could be to buy a product, sign up for an upcoming event, or follow your social media account.
An email has to be relevant, have valuable information, and have to keep your audience engaged. Its delivery has to be timely.
For example, an invitation to an event has to be done early enough to allow time for adequate preparation.
You do not want a subscriber to ever consider your emails as spam. As such, you must understand what each subscriber wants to see.
Do not email your audience more often than is necessary.
It would be advisable to inform them in advance of a schedule that will be followed. This can be done during an opt-in.
One of the best ways to retain your subscribers is by asking for their input in the scheduling of the emails. This can be achieved through a survey or a poll.
After you have a plan in place, make sure you stick to it.
---
8. Subject Line
A subject line is what every recipient of your email will see first.
A subject can lead to your email being ignored or opened. It, therefore, has to be catchy so that it can draw attention.
A good subject's length ranges between 41 and 50 characters.
Given that nowadays people use mobile devices more, it is important to make the subject lines as short as possible so that the entire length is visible.
Here is a chart showing subject line length and the read rates for emails according to data from Campaign Monitor.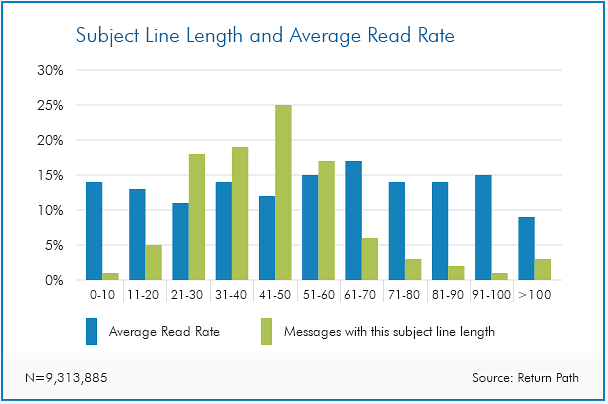 Make use of these tips when crafting a subject line.
Make offers to people who open an email
Include a subscriber's name in the subject line
Do not use spam trigger words.
---
9. Writing the actual email copy
Do you want to send those cold emails, which converts the most?
If you want to learn the art of creating high-quality email marketing copy which should be short and precise. Be careful in your selection of words. Use a friendly tone from the onset so that you won't scare away a subscriber.
To strike a comfortable tone, address the subscribers by name because personalized emails have been found to be more successful.
Personalization should extend to the entire email copy such that the copies should meet the unique needs of every subscriber. This is an aspect of segmentation that delivers impressively during an email marketing campaign.
Try to be as human as possible. People do not want to feel as if the communication is being done by a robot.
Creating an emotional connection with your audience will increase tremendously the chances of your email being acted upon.
Find other ways of keeping your audience engaged. For example, you can include, videos or.GIF, polls, and surveys.
Call to action (CTA) is the last and most crucial part of an email copy.
A CTA is what you want a subscriber to do after reading your email. It should be included near the beginning, at the center, and at the end of an email.
---
10. Email Marketing Design
How you design an email also matters a lot. A bad format will affect how people perceive your brand; we know that a tainted brand declines customer confidence. More people use mobile devices for their browsing these days.
You must, therefore, choose an email provider with responsive templates that will automatically resize depending on the device being used by a subscriber.
Do not a lot of images. It is true that images make emails more appealing but the best email copies are the ones that contain more text than images.
11. Testing and Tracking
You do not want to sell a product without doing a pilot program. Likewise, an email marketing campaign must have a testing phase.
It is this phase that will gauge the effectiveness of the campaign you plan to roll out. Testing will give the opportunity to make adjustments to areas of concern.
In this step, everything is tested. That is the design, the email copy, the subject line, and CTA. Testing is done on a segment at different times.
After sending, you then track the email to see how people respond to it. It is at this point that you monitor the analytics data provided by the email provider. This data will give insights into what is working well and what needs to be rectified.
So, what you can add to perform successful email marketing campaigns to get more sales and leads.